Welcome to this year's Season of Promise! This holiday season, we are raising crucial funds to support our facilities and programs, and most importantly to support our youth participants here at Trails this winter. Your gifts promise learning, fun, warmth, nutrition and so much more.  We're excited to share that this year, your gifts will be matched by our amazing Governor, Steve Rogers. I hope you're inspired by his kindness and generosity to give what you can today!
Will you please support our Season of Promise right now?
Every single donation makes an impact—and this year, your impact will be doubled!
Use the form below to make a donation using a credit card or PayPal, or send your gift by e-transfer to admin@trails.ca.
Join our President, Mel, as she shares how you can be part of Trails' 30th Anniversary Season of Promise.
When you give today, you can also share a promise, wish or message with our Trails youth this holiday season. 
Promise, Wish or Message
Write Yours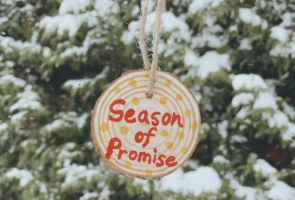 When you make your special Season of Promise gift to Trails, we'll add your name to one of these beautiful wood ornaments and hang it in our Trails Holiday Tree!
Your ornaments—and your gifts—send a message to our youth that there is a whole Trails community here to celebrate their achievements and encourage them to take on new challenges.
Thank you for your support and kindness this holiday season!
Season of Promise Messages
Messages will be posted up here throughout the month of December, we invite you come back to read them!