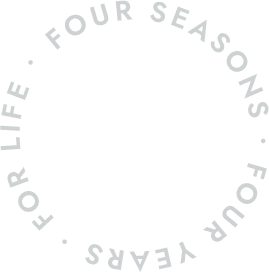 The Trails Way
Each year Trails welcomes new youth to embark on their four-year journey. In addition, an optional fifth year is offered with the Leadership-in-Training (LIT) program, where participants have the opportunity to further develop leadership and life skills.
The Result
Up to 3 high school credits in Health and Physical Education
40 hours of community service
30+ days of wilderness tripping experiences
30+ hours of mindfulness

10 hours of training in non-violent communication
Emergency First Aid (CPR) Certification
Over 500 hours/participant each year

20+ Hours Peer Mentoring/Teaching
Mentorships through Grade 11 - 12
Access to bursaries to attend post-secondary education
High School Credits
Students who remain in the program for the full 5 years can earn up to 3 credits in outdoor education. Trails has permission from the Ministry of Education to grant these credits as a Ministry-Inspected Private School. In 2019, 39 students earned credits and 55 earned credits in 2020.
Curriculum Topics of Instruction
Fitness plans, nutrition and wellness
Sexuality and human development
Wilderness trip planning
Healthy relationships
Environmental stewardship
Stress management and coping strategies
Outdoor competencies (canoeing, kayaking, skiing, snowshoeing)
Resume writing
Non-violent communication
Interviewing skills
Yoga and mindfulness
Teaching/facilitating group discussion
Healthy boundaries
Feedback and evaluation
Group dynamics and leadership
Problem solving/decision making
Conflict resolution
Trails Lakeside, Stouffville
Trails Lakeside in Stouffville is situated on 143 acres of conservation land and home to the Trails administration and program offices. The property boasts two lakes, six year-round cabins, a low and high ropes course, kilometres of hiking trails and three campsites. Participants are provided with all the equipment and gear they will need to enjoy four seasons of outdoor recreation, including camping, canoeing, swimming, hiking, snowshoeing, skating and cross country skiing. For a virtual tour of Trails Lakeside, click here. 
Limberlost Northern Campus, Huntsville
Limberlost Wildlife and Nature Reserve, near Huntsville, is Trails' Northern Campus. Use of the site is generously donated by Limberlost for the development of our youth in the Leaders-in-Training program through special purpose trips. The campus provides exposure to nature and builds confidence, the ability to adapt, and develops long-standing values. All proceeds from Limberlost's trail map sales and the annual Limberlost Challenge, a 14, 28, or 56Km race through historic lakeside, wetland, and boardwalk trails on the private reserve go directly to Trails.